Spring is quickly turning into summer across the country. As the warm temperatures grow, now is the time for parents to get their children excited about eating fresh fruits and vegetables.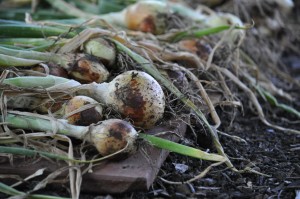 A great way to do get them excited is to pique their interest before sitting down at the dinner table.
Try this green thumb challenge: plant a garden with your kids and grow some of your own food!
Get started with these tips:


Decide on a container garden or a backyard garden.


Make sure you pick a sunny part of the yard since most plants need at least 6 hours of full sun each day.


If a sunny spot is hard to find, a container garden allows you to move the plants to sunny areas throughout the day.


Pick a theme for your garden, e.g., salads, herbs and spices, pizza seasonings, salsa, or just specific foods like tomatoes or peppers. This will help when shopping for seeds.

[caption id="attachment_21422" align="alignright" width="300" caption="Photos Courtesy of Michelle Rodriguez"][/caption]


Make notes about your plants' basic needs: how far to space plants, how often to water them and when you can expect to see the plants bloom.


Check out ways to freeze your food so you can enjoy them during the winter as well.


Create your own cookbook. Search the Internet, cookbooks and magazines for recipes that use the ingredients growing in your garden.