Spring has sprung! Now is the perfect time to start planning your garden. Whether you have a large yard or a small space on your deck or windowsill, here's our advice for creating a green space this season.

Getting started



Pick a location. No matter if it's inside or out, it should have access to at least six-hours of sunlight per day.


If you are planting your garden outside, have your soil tested for acidity and nutrient content. This is easily done with a soil testing kit available at most gardening centers. You can also have a sample tested at your local Cooperative Extension office. To find a location near you, click here.


What to grow
After you've chosen the perfect spot for your garden, now comes the fun part, choosing what to grow.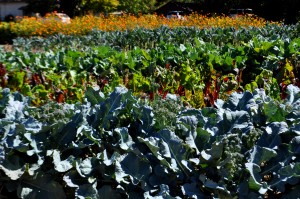 Whether it's seeds/seedlings, early spring offers prime growing conditions for broccoli, peas and leafy greens. These hardy crops can tolerate cooler temperatures and grow surprisingly fast; the baby leaves of greens can be harvested can be harvested and used for salads in as little as 3 weeks!*
Herbs like basil, rosemary and cilantro are a great option for both indoor and outdoor planting. They can be kept inside year-round and require limited space, but they do require a lot of sunlight.
Tips for growing
Plant spring vegetables directly in the soil or in pots and trays.
If you want to start with seeds, use containers you already have on hand (e.g., yogurt containers, milk cartons, coffee cans). Be sure to poke holes in the bottom for drainage. Once your plant begins to outgrow its container, transplant it to a larger container or directly into the ground.
The key to a plentiful crop is proper watering, weeding and harvesting. Experts say early morning is the best time to water plants because water will evaporate over the course of the day.
What is your favorite thing to grow? Share your thoughts below or
click here
to share them on our Facebook page.
*Leafy greens add a beautiful richness to your garden. Grow them close together if you plan to pick the baby leaves more frequently; plant them further apart if you aim to grow a full head.