Over the years it's become more common to see interfaith marriages. A 2010 study showed 42% of marriages in the United States are interfaith. That got us thinking about Passover and Easter. The two overlap this year, meaning many families will serve dinners that bring both cultures to life. It presents an opportunity to get creative in the kitchen.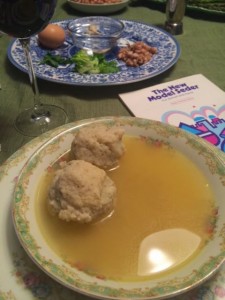 Start your meal with a bowl of matzoh ball soup or a small garden salad. Serve beef tenderloin or turkey in place of ham for your entrée. Replace sweet/scalloped potatoes with orange vinaigrette carrots (recipe below). Complete your meal with either a dairy-free matzoh/potato kugel or opt for roasted asparagus. When it's time for dessert, serve coconut macaroons and fresh-cut fruit. Remember if you are keeping Kosher, make sure everything is dairy-free.

This meal is sure to please and is representative of both cultures.

Carrots Tossed in Orange Vinaigrette
Ingredients:



1 pound baby carrots, trimmed and halved lengthwise


1/2 cup chopped fresh cilantro


2 tablespoons chopped fresh dill


1 tablespoon olive oil


1 tablespoon fresh orange juice


1/2 teaspoon ground cumin


1/4 teaspoon kosher salt


Directions:


Boil carrots in water for 3 minutes or until crisp-tender and drain.


Place cilantro in blender and pulse 3 times, add dill and remaining ingredients; pulse 3 times or until well combined.


Spoon dill mixture over carrots; toss gently to coat. Serve warm or at room temperature.