This authentic Asian recipe, literally meaning "stewed beef over rice," is easier than you think. So when a takeout craving hits, don't be afraid to make this instead! You'll find yourself coming back to it time and again!
This recipe for Gyudon has been added to our Pacific Thyme station recently, and it's been very well-received at several of our schools!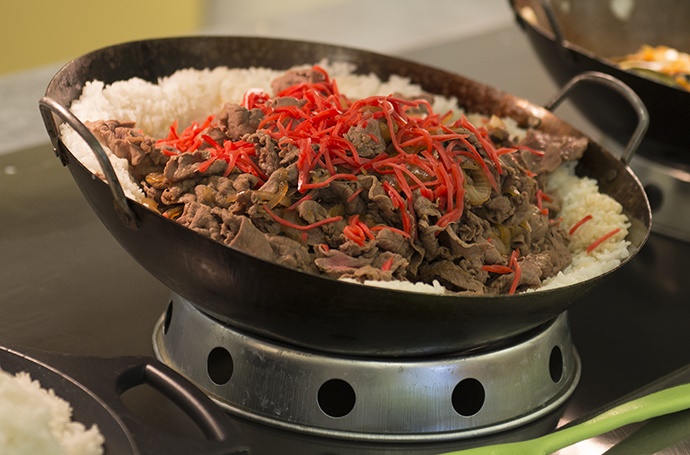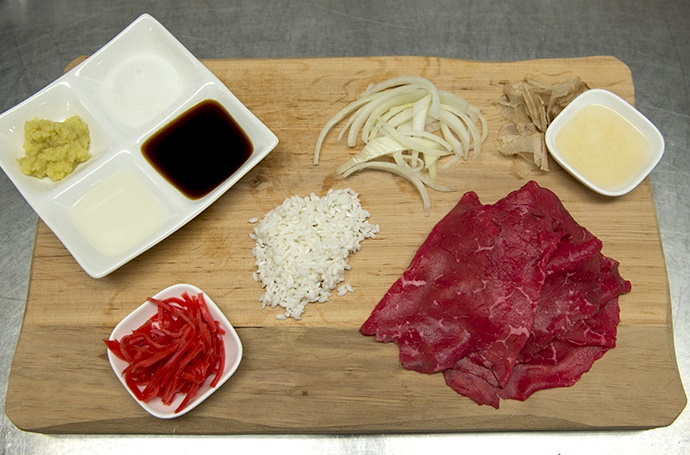 Yields: 8 servings
Ingredients:
2 cups dashi (recipe below)
¾ cup shoyu (Japanese-style soy sauce)
1/3 cup sake (optional)
1/3 cup sugar
1½ tablespoons grated ginger root
2 medium onions, thinly sliced lengthwise
1½ pound top round beef
4 cups steamed short-grain white rice
¼ cup beni shoga (Japanese pickled gingerroot, optional)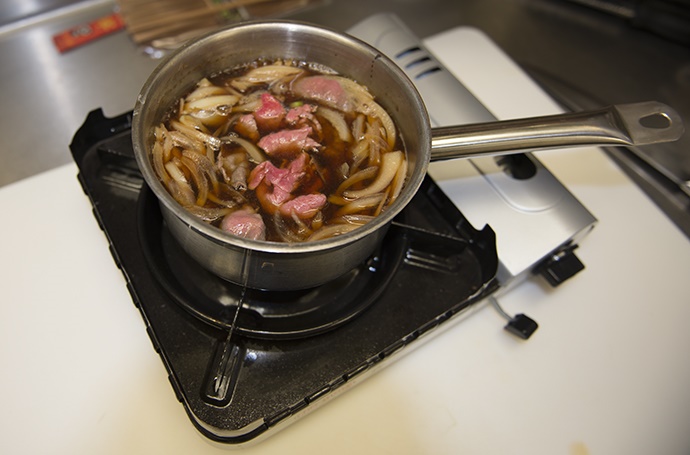 Preparation:



In a stock pot, combine dashi, shoyu, sake, sugar, and gingerroot. Bring to a boil.


Add onions and continue to boil for 5 minutes.


Cut beef into paper-thin slices. Add to pot piece by piece, stir, and continue to simmer for 5 minutes, or until beef is cooked through.


Divide the rice into bowls. Top with the beef-and-onion mixture.


Top with remaining broth. Garnish with beni shoga if desired.


Notes:


Dashi can be purchased as a broth or as a paste. Vegetable stock can be substituted, as well.


To save time, ask your butcher to slice the meat thinly for you.


Ginger is peeled most easily with a plastic spoon.


Dashi
Dashi is a Japanese stock that forms the base for miso soup, clear broth, noodle broth, and many kinds of simmering liquids. It can be refrigerated in a sealed container for 3-7 days, or frozen for up to for 3 weeks.
Yields: 2 cups
Ingredients:
1 2-inch square kombu (kelp)
2½ cups water
½ cup katsuobushi (bonito flakes)
Preparation:


Place kombu and water in a 4-quart saucepan and soak for 30 minutes.


Place saucepan over medium heat and bring to a boil. Reduce and simmer for 1 hour.


Turn off heat and add katsuobushi. Steep for 1 hour, then strain with fine mesh or layered cheesecloth.