Ever since Lower School Science Teacher William Eswine first planted its vegetable and fruit gardens in 1975, SAGE partner Savannah Country Day School has been at the vanguard of using food as an educational tool. In addition to growing an abundance of traditional veggies and herbs, the gardens, which Eswine has continued to maintain, include exotic plants like citrus fruits and kumquats. Some of the produce even goes into SAGE meals!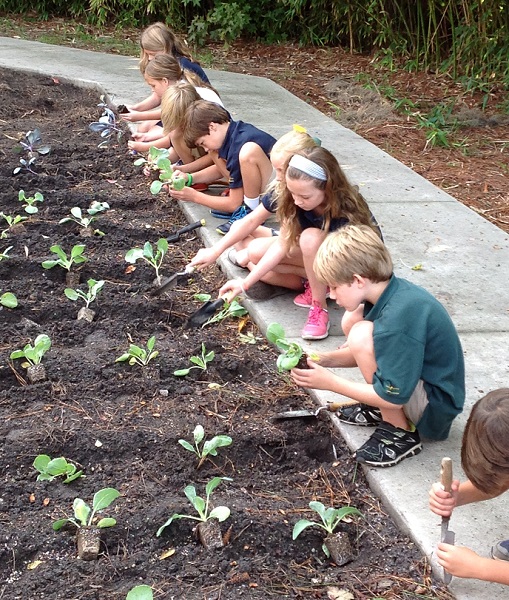 The garden is central to the Lower School student experience—every year, the third-grade students prepare and plant the fall garden. They turn the compost, learn garden tool safety, invent a garden tool, and make a watering device. Each child plants his or her own plant. They collect data every time they go into the garden, including the plant's height, the width and length of the leaves, the presence of insects or weeds, the soil and air temperature, and the weather. Each student creates a garden journal with nutritional facts, growth graphs, and stories and pictures about growing his or plant. After they take their plants home, the students send in photos and recipes of the dishes they've made with their families, using their plants.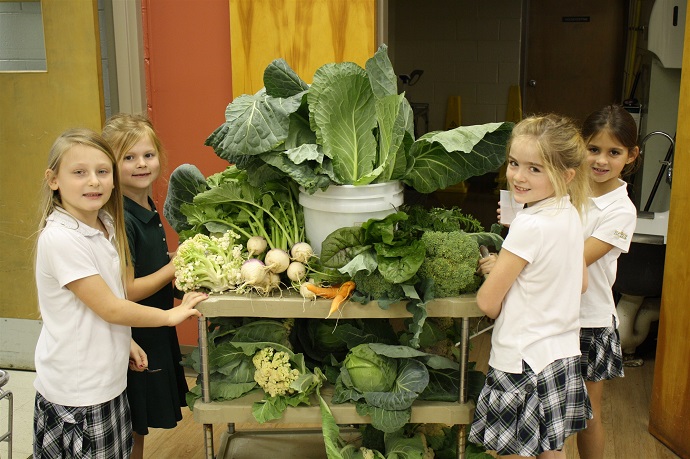 At the end of the season, the students harvest and prepare any remaining vegetables. SAGE gives them chef's hats and aprons, and our Chefs do a huge stir-fry of all the vegetables. Lower School Assistant Teacher Dr. Joan Khan wryly notes, "A few always insist that they don't like stir-fry, but, lo and behold, they all come back for seconds. Sometimes thirds."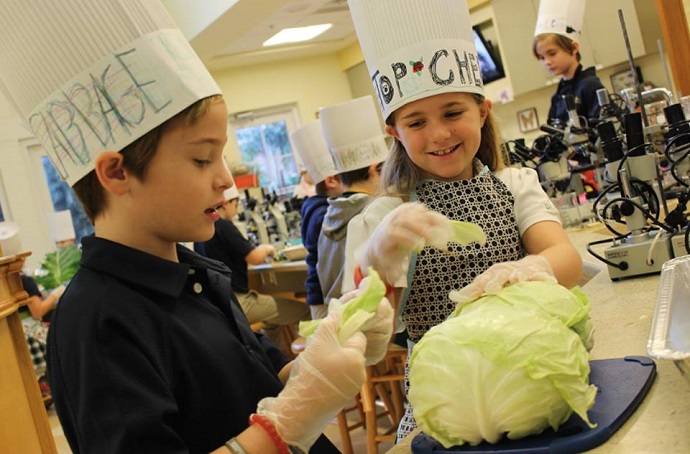 Students' involvement with the garden has a lasting impact. Says Eswine: "To see students connect to a plant, care about something other than themselves, is huge. [They'll] come back as parents and tell us that they remember their plant, and [because of that], they've made sure their children have gardens."
Beyond the third grade experience, the gardens are an interdisciplinary educational tool for the whole school. When students were studying flowers and pollinators in science, they sculpted and fired realistic clay flowers, then set them in the ground. Some students even poured sugar-water into their clay flowers so bees and butterflies would come! A sixth-grade teacher also has an observation hive in his science classroom, and other beehives on campus—so there are even more pollinators to go around.
Country Day has chickens, as well—and every chicken in the coop has been raised in the school's own incubator. The school uses the eggs in composting, dissections, and cooking demonstrations. In fact, earlier this spring, fourth grade students made a huge frittata in a solar cooker, using the school's own eggs and vegetables.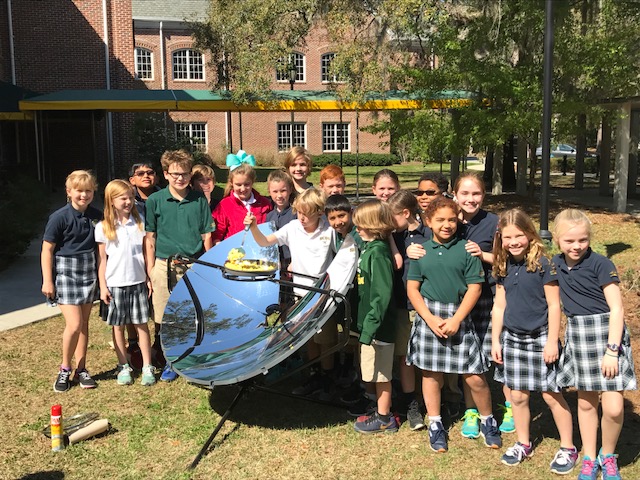 SAGE wouldn't miss out on the chance to bring food and education together. To satiate midday hunger, we provide healthy fruit, like bananas, apples, oranges, and pears, for all Country Day students to eat during the day. The students are responsible for peeling and coring apples; in turn, SAGE dehydrates the fruit for a sweet, healthy snack. The process provides a lesson on science and responsibility, as well as wise use of resources, because any cores and peels are taken to the chicken coop for feed, and later becomes compost for the gardens.
At SAGE, we're committed to connecting people to their food and promoting sustainable practices. What makes our work with Country Day so special is our mutual commitment to educating students to appreciate, understand, and care for their natural environment.