For a light, savory spring supper, enjoy this chewy flatbread topped with smooth ricotta and bright asparagus.
Asparagus & Ricotta on Herbed Flatbread
Yields: 2 14-inch flatbreads
Serves: 8
If you're short on time, substitute pita from a local bakery for the fresh-baked flatbread, and mix the herbs in with the ricotta.
Ingredients:
2 cups all-purpose flour
1 tablespoon minced garlic
1 tablespoon minced fresh thyme
1 tablespoon minced fresh parsley
1 teaspoon kosher salt
1 teaspoon ground black pepper
¼ cup water
1 bunch of asparagus, woody ends removed and discarded
8 ounces of ricotta, divided
¼ cup olive oil for drizzling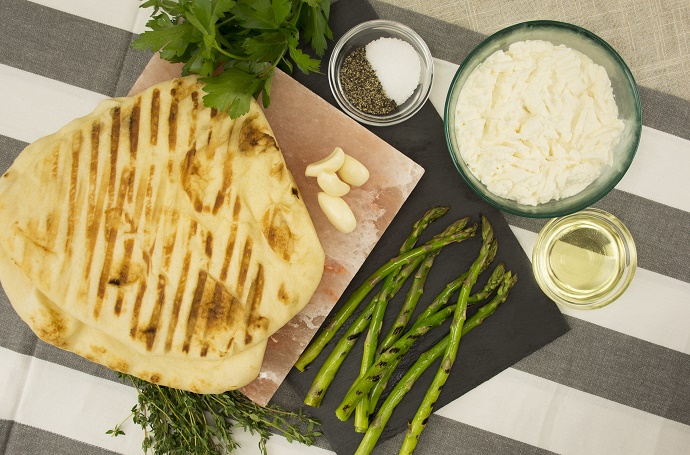 Preparation:


Using a whisk attachment blend together flour, garlic, thyme, salt, and pepper.

Add water and mix on low until dough is formed. Add water as needed so dough is just moist.

Remove dough from bowl, wrap in plastic wrap, and refrigerate for 30 minutes.

Preheat oven to 400°F.

Cut the asparagus in half lengthwise if thick, then cut into two-inch pieces.

Split the dough in half and roll each dough ball to ¼-inch thickness on a floured surface.

Transfer the dough to a greased baking sheet and bake for 10 minutes.

Top baked flatbreads with ricotta and asparagus, then drizzle with olive oil.

Bake 8 to 10 minutes, or until golden.