It's Labor Day Weekend, the unofficial end of summer. As we hit the road to sneak in one last getaway, or find time to head to the pool, many will fire up the barbie for one final hurrah.

Labor Day is the third most popular grilling holiday. This year, instead of sticking with the same old burgers and dogs, why not try spicing up your outdoor party with some fresh, nutritious ideas!

Main Dish:

[caption id="attachment_22504" align="alignright" width="300" caption="SAGE Dining Services"]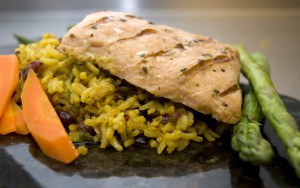 [/caption]




Bison Burger on a Whole Wheat Bun – Bison is a delicious alternative to beef. It contains less fat, but just as much high quality protein, vitamins and minerals. Top with a whole wheat bun for added fiber.




Salmon with Fruit Salsa – Brush salmon with a little olive oil and season with lemon and herbs. Top with a salsa made with mangoes and pineapple.



Side Dishes


[caption id="attachment_22495" align="alignright" width="300" caption="From the SAGE Kitchen"]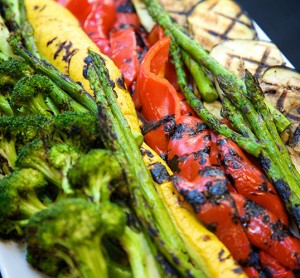 [/caption]





Grilled Vegetables - This is one of SAGE's most popular side-dishes. We especially like peppers, yellow squash and asparagus on the grill. Not only do they look great and colorful, their flavors compliment each other.




Grilled Corn – Grill seasoned corn in its own husk or shuck it and then grill in aluminum foil. Either way, the flavor is amazing.




Red Potato Salad – Add extra fiber by leaving the skin on your potatoes. Instead of mayonnaise try vinegar, mustard, olive oil, and herbs.



Dessert



Grilled Fruit – A dessert alternative that's also nutritious! Slice some peaches in half, place on the grill until they are browned in spots and warm throughout, sprinkle a little sugar on top and serve with fresh raspberries or strawberries.




Frozen Smoothie Pops – Instead of handing out popsicles to the kids, mix up a batch of smoothies, pour into popsicle molds and freeze. Now you know that even if your children didn't stop to eat dinner, they at least ate something nutritious!