We've whipped up something special for spring—a light, flavorful vegetarian quiche accented by nutty fontina cheese, savory asparagus, and a melt-in-your-mouth pie crust. Currently, seven of our schools feature it on their menus. Enjoy!
Asparagus and Fontina Quiche
Yield: Serves 6-8
Ingredients
For Crust
1 1/4 cups all-purpose flour
1/4 teaspoon salt
1/2 cup unsalted butter, chilled and diced
1/4 cup ice water
Preparation
Step 1 In a large bowl, combine flour and salt. Cut in butter until mixture resembles coarse crumbs. Stir in water, one tablespoon at a time, until mixture forms a ball.
Step 2 Wrap dough in plastic and refrigerate for 4 hours or overnight.
Step 3 On a floured surface, roll out dough to fit a 9-inch pie plate. Place crust in plate. Press the dough evenly into the bottom of the pie plate and set aside.
Step 4 Preheat oven to 350 degrees Fahrenheit. Bake crust for 8 to 10 minutes.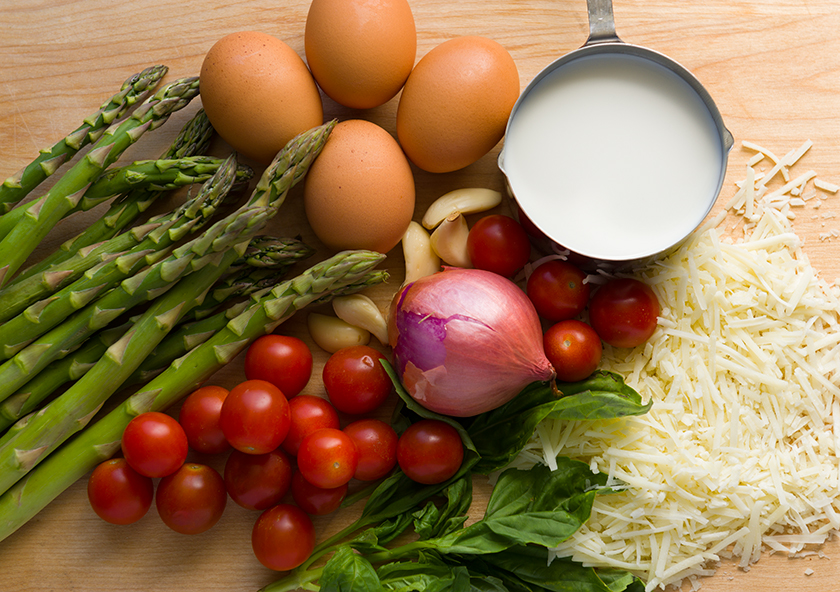 Ingredients
For Filling
1 cup asparagus, sliced in quarter-inch slices, fibrous ends trimmed off
5 stalks asparagus, left whole for garnish, fibrous ends trimmed off
2 tablespoons olive oil
1/4 cup onion, diced
1 shallot, diced
2 cloves garlic, minced
8 cherry tomatoes, halved
5 leaves basil, cut in chiffonade
4 large eggs
2 cups whole milk
1/2 teaspoon salt
1/8 teaspoon freshly ground pepper
1/8 teaspoon nutmeg
3/4 cup fontina cheese, shredded
Preparation
Step 1 Preheat oven to 350 degrees Fahrenheit.
Step 2 Blanch asparagus by submerging in 4 cups boiling water for 3 minutes, then submerging in ice water for 5 minutes. Drain and set aside.
Step 3 Heat 2 tablespoons olive oil in small skillet over medium heat. Saute onion and shallot until translucent. Add garlic, tomatoes, and basil and cook for 3 minutes, or until tomatoes begin to soften. Set aside.
Step 4 In a bowl, whisk together eggs, milk, salt, pepper, nutmeg, and cheese.
Step 5 Stir sauteed tomato and onion mixture and blanched asparagus into egg mixture.
Step 6 Pour entire mixture into prepared crust. Use a spatula to spread ingredients evenly and garnish with blanched stalks of asparagus. Bake for 30 minutes, or until knife inserted into quiche comes out clean. Let quiche cool for 10 minutes before slicing to allow filling to set.
Tips: For a more whipped consistency, try an immersion blender to mix the eggs, milk, spices, and cheese.
The filling for this quiche can be prepared a day in advance and kept uncovered in the refrigerator. After baking, the quiche can be refrigerated for 3 or 4 days.