Now that school's winding down, most of our students have summer reading assignments— and they're not alone. SAGE has summer reading, too! We take our mission to "inspire minds" seriously, not only for the students at our schools, but also for our leadership across North America. That's why our District Managers and other leaders are assigned a book to read each summer. When school's back in session in the fall, they all get together to discuss key chapters and apply what they've learned to their work. These ongoing discussions encourage the growth mindset that helps us bring you the latest innovations in technology, nutrition, allergen awareness, and eating disorders prevention.
We recently read Bill McKibben's Deep Economy, which argues in favor of a local food economy on the basis of economic, environmental, and cultural factors. McKibben demonstrates that the mass production of food has a steep (if hidden) price, from environmental costs like the use and degradation of natural resources like water, oil, topsoil, and ozone, to ethical costs like low farmer profit, exploitation of workers, and mistreatment of animals. An additional hidden cost is the disintegration of our communities and the decrease in our emotional well-being—as McKibben describes it, "the vague but growing sense that we are not as alive as we want to be." Structures of collaboration and communication, opportunities to share resources and labor, and an interest in the common good—what McKibben calls "neighborliness"—have gone the way of the rotary dial and the cassette tape.  We're making more money than ever before, but we're not happy. McKibben asserts that "our affluence isolates us" by precluding conversations we could have had with the butcher and the baker, alienating us from the land that sustains us and the community, and making foreign the techniques of farming, gardening, and preserving that brought us to the abundance of food we have available today. It snags at the integrity of our very cultural fabric.
So how do we repair the situation? McKibben proposes that connections, not things, lead to real satisfaction. His own year-long experiment in local eating resulted in "a web of connections I'd never known about. I've gotten to eat with my brain as well as my tongue: every meal comes with a story. In my role as eater, I was part of something larger than myself that made sense to me—a community. I felt grounded, connected." While a 100% local diet is neither financially nor geographically possible for everyone, the enhanced community and connection McKibben describes are great incentive to purchase locally as your budget permits.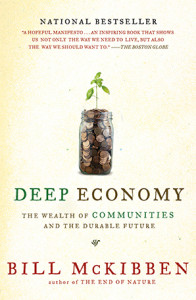 From its inception in the early 90s, SAGE has committed itself to fresh foods, sustainable dining practices, and strong relationships with local suppliers. In July 2012, we reaffirmed those commitments by transitioning from one large national supplier to many smaller, locally based suppliers.  At the same time, we wanted to model the importance of local sourcing for our students, so we began to implement dining hall signage highlighting the local origins of the food we serve--from the family-owned farm ten miles away to the lettuce beds out back. We've always believed that knowing the places and people behind the food they're eating allows students to make tangible, valuable connections between food and community. After discussing McKibben's book, we realized we needed to champion our values with audiences outside our dining halls, too—so last fall, we started interviewing our local suppliers. We toured their farms and their kitchens, met their families, and learned their stories. Then we began writing Locally Sourced blog posts to share those stories with you. Like McKibben, we know that eating locally isn't just an environmental priority or a current fad; it's a choice to value community, culture, artistry, and inter-reliance above convenience.
If you're interested in the intersection between food, economy, and community, add McKibben's book to your list. It offers a great opportunity for you to think about the kind of community you want and what you're willing to do to create it.