Try this fun, kid-friendly recipe for quiche-stuffed peppers! Colorful, delicious, and nutrient-dense, they're sure to become a staple on your family menu for years to come.
Quiche-Stuffed Bell Peppers
Serves 4
Ingredients:
2 bell peppers
1 tablespoon olive oil
1/4 cup onion, diced
1/4 cup broccoli, chopped
1/4 cup tomato, diced
3 eggs
1/8 cup whole milk
1/8 teapsoon cayenne pepper, ground
1/8 teaspoon salt
1/8 teaspoon black pepper, ground
1/4 cup cheddar cheese, shredded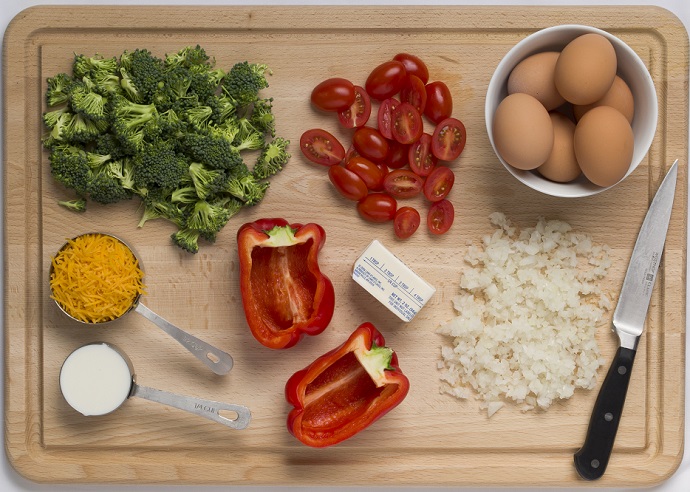 Preparation:
Step 1 Preheat oven to 375˚F.
Step 2 Halve, core, and seed peppers. Leave stems intact if desired.
Step 3 Warm olive oil in a large skillet over medium heat. Add onions, broccoli, and tomatoes. Saute until onions are translucent and broccoli and tomatoes are fork-tender, about 5 minutes. Remove pan from heat.
Step 4 In a medium bowl, combine eggs, milk, cayenne pepper, salt, pepper, and cheese.
Step 5 Add vegetable mixture to egg mixture. Stir to combine.
Step 6 Place pepper halves skin-side down on baking sheet. Add approximately 2/3 cup filling to each.
Step 7 Bake 35 minutes, or until a toothpick inserted into center of filling comes out clean.
Tip: If pepper halves won't sit flat on the baking sheet, prop them up with aluminum foil to prevent the filling from spilling out before it sets.