Hi there! We're here again with another edition of our blog series, "On the Road with RDs," where we invite you to follow along with our Dietitians as they visit venues, teach communities, and continue their education in the wide world of nutrition. This time, we're joining two of our Registered Dietitians, Jessica Holler and Taylor Chan, on their recent trip to the Academy of Nutrition and Dietetics' annual Food & Nutrition Conference & Expo™ (FNCE®, pronounced "fence-see") in Philadelphia.
Attending FNCE is an exhilarating experience. Walking into a convention center, filled with over 10,000 fellow dietitians, all ready to learn about the newest nutrition trends and research … it's really a dietitian's dream.
There were educational sessions at the conference and hundreds of food-related companies showcasing their products at the expo. Here are our main highlights from each:
The Conference
Jessica: This conference allows us as dietitians to take a deeper look at all the trending nutrition information that's shaping our profession. I attended sessions about sustainable food systems, body image and intuitive eating, farm-to-table dining in schools, gluten sensitivity, and the changes to the Nutrition Facts label. I was especially inspired by Abby Wambach's keynote speech about leadership, diversity, and equality. All the information gained will help us fine-tune and improve our programs and educational efforts. I can't wait to put all this new knowledge to work for the communities SAGE serves!
Taylor: There was such a wide variety of topics covered in the sessions, and I'm still trying to process all that I've learned. My favorite sessions were probably the ones about intuitive eating, reimagining food waste, cultural appropriation vs. appreciation in recipe development, and combatting confusion in news coverage about nutrition. These sessions really got my brain working, thinking of ways that dietitians can be more effective, ethical, and innovative in our practice — there's always room to improve!
The Expo
Jessica: If you love food (and I LOVE food), this is the place for you! I tried sauerkrauts, pastas, pizzas, snack foods, and even beef sushi! I noticed a lot of companies offering foods specifically tailored toward gut health and low-FODMAP diets. I was really excited to find quite a few vendors offering top allergen-free foods! I'm always on the lookout for options that will make dining easier for the people we serve who have food allergies.
Taylor: So. Many. Samples. I tried just about everything — cauliflower tortillas, roasted bean snacks, moon cheese, and even some supplemental nutrition drinks. Nutritional trends change frequently, and staying up to date is important, because it's only a matter of time before we get questions from friends, family, co-workers, or really anyone. "Oh, what do you think about ___? Everyone seems to be eating/doing it now!" We have to be prepared for those conversations.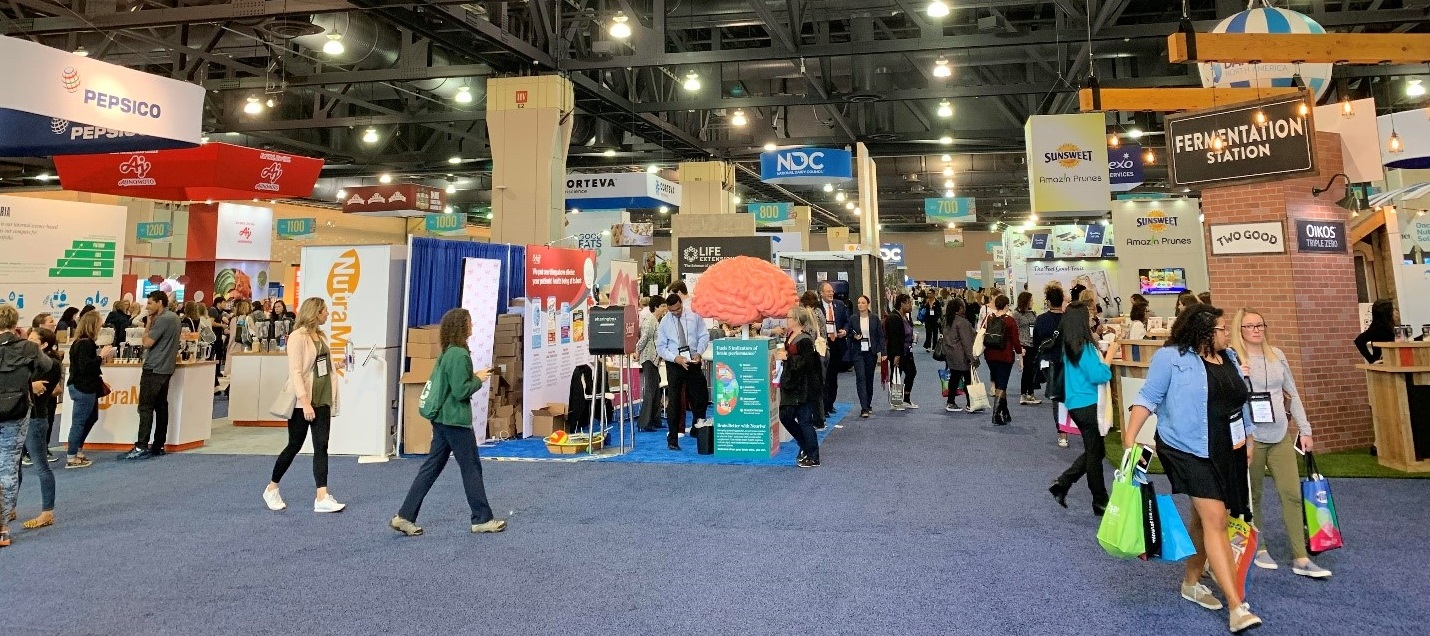 Keep an eye out for future blogs where we'll share some of the specifics about what we learned!